_________________________________________________________________________
_________________________________________________________________________
Announcing the Pin Up Paws Pets of 2014:
They answered the casting call and campaigned for votes, raising $15,000 for our charity programs. Each of the winning pets has a starring role in the 2014 calendar, posing as a famous film character. Runners-up earned supporting roles throughout this beautifully crafted publication.
Professional photography was provided by Addison Fitzgerald and calendar design by fine artist, Maribel Angel. The calendars are available for just a $10 donation each, either by ordering online or picking up in person at the following locations: Tres Sebastian, Antique Warehouse, J. R. Benet, Dogtown USA - St. Augustine, and the St. Augustine Humane Society.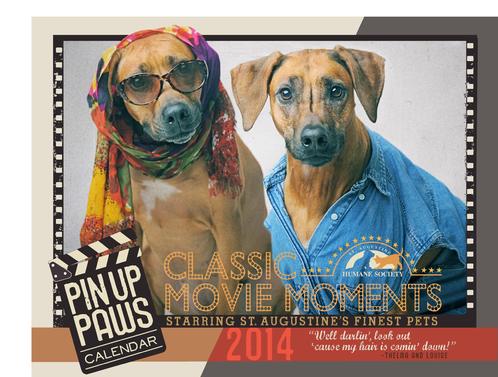 Scooby & Daisy, owned by Lynette and Tracy Snell
Thanks to the following businesses for sponsoring the
2014 Pin Up Paws calendar
---

St. Augustine Humane Society

|

1665 Old Moultrie Rd.

|

St. Augustine, FL 32084

PO Box 133, St. Augustine, FL 32085

|

Phone (904) 829-2737

|
info@staughumane.org

Hours of Operation: Mon. - Fri. 9:00am - 4:00pm
Closed for Lunch Each Day: 12:30pm - 1:30pm

Open Sat. by Appointment Only for Grooming
General Operations Closed: Sat. and Sun.